'This plastic head is not a casting pattern, it's sort of mock-up of the finished object'
Check this out. It's a plastic cylinder head that will help solve the gasket problems I've been suffering on the Tait Martinsyde recently. We won't be fitting it – it's a rapid prototype, a scanned and 3D-printed copy of the original, as redesigned by my friend Bruce Hazelgrove who is making the casting patterns. Chris Tait remodelled the combustion chamber of the original head by bolting in thick iron slugs to increase compression. It worked for performance but if we cast a copy, the head will become an inchthick slab of cast iron, very heavy and not great for heat dissipation. Bruce suggested deepening the fins on the top, channelling into what is presently the bolted-in slug, so the combustion chamber remains the same but the head is returned to conventional thickness; clever. This plastic head is not a casting pattern, it's a sort of mock-up of the finished object that gives Bruce something to copy when he makes the pattern, rather than having to factor-in the modifications in his mind's eye. The actual casting pattern will need to be in several pieces with extra dimension added here and there to allow for shrinkage – you can't just plop the old head into the sand and make a mould. Think about pressing a shape into a box filled with sand; plainly you can only really copy the down-facing side. You also need 'draw' – a taper so the pattern emerges from the sand without damaging the imprint, that's why the blocks on any casting are not straight-sided. Patterns for complicated parts are made of several pieces fitted together so they can be dismantled for removal without destroying the imprint; any lines, like veins, on a crankcase casting are the join lines of the pattern sections. It's a fascinating subject that I'm enjoying learning about almost as much as the prospect of getting the last part of the Martinsyde jigsaw completed.
The Big Fix
balls or taps?
Rick considers the best way to stop your British classic wet-sumping
Tom Halls asks what he can do to prevent oil draining from tank to sump – 'wet-sumping' – when his '59 BSA A10 is left standing. It's a common problem on British bikes with gear-type oil pumps; gravity draws the oil tank content down through the pump gears into the crankcase. It doesn't happen when the bikes are used daily, as the makers intended, but it's a nuisance for classic owners. There is a ball valve on an A10 between the pump and the big-end supply; primarily there to prevent crankcase pressure blowing oil backwards, it also serves to close the oilway when the engine is stationary. Unlikely to cause trouble, it can only be dismantled from inside the crankcase, but if you remove the pump you can poke it and give it a squirt of WD40 via the oilway to make sure it's still springy and free from obstruction. The valve seals the feed side of the pump from the crankcase, but if the pump is worn, oil can cross from feed to return side and down the scavenge pipe into the sump – a new pump is the only cure in this case. A tap in the line is an easy fix – but create a reminder to turn it on; some people fit a clip to the twist grip to remind them, others devise an electrical cut-out rigged to the tap. A more automatic option is an in-line ball valve. Originally fitted by Velocette, these have a light spring that is overcome by suction from the pump but resists the weight of the oil. The spring pressure has to be just right to open properly and although they are popular, many regard them with suspicion. It's true roller big-ends, as on the Velocette, are more tolerant of intermittent oil feed than a plainbearing parallel twin. I'd go for a tap with a large bore... and a good memory!
Top Tips
A prime number and taking the right turn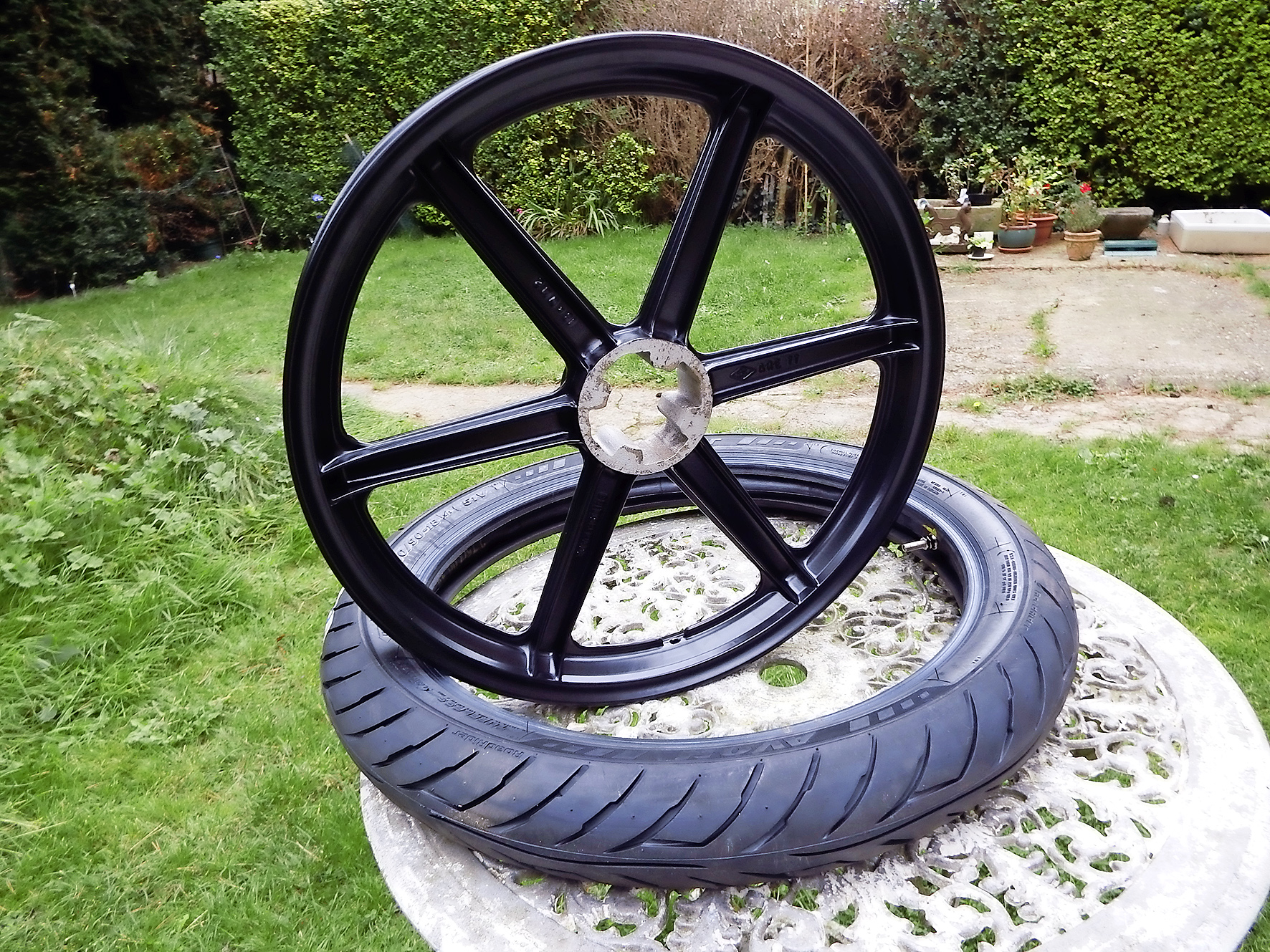 Andy Reynolds has been quoted £60 per wheel to blast off powder coating and asks if he can simply paint over the top? I was sure I had heard of people using powder coating as a tough primer coat and asked Dave at Redditch Shotblasters on his stand at the Stafford show. Dave confirmed that powder coat will accept most paints with the exception of cellulose with which it tends. Powder coat can be a primer.

Jeff Goacher points out that the left-hand thread on the James crankshaft (Fixes August) is not unusual; as a rule of thumb, things that rotate clockwise often have a left-hand thread (their inertia inclines them to tighten not loosen). Very true, but it's not always the case; a Villiers flywheel has clockwise rotation but a right-hand hand thread. Possibly Villiers anticipated customers expected undoing to mean anti-clockwise... Might save someone a problem!
Wheels of war
Deo Gauchi contacted my blog site asking if I had any idea where he could get a front wheel for his BSA B40WD. I had one of these ex-army 350s after I passed my test and it was a great bike – although the front brake was not its greatest asset. Parts for the army bike are getting scarce, but when it was made (from about 1967-70) many of the parts were taken from other models, so there is a good chance that another BSA wheel will do the job. In the case of the front, I'm pretty sure it is the same wheel as fitted to many of the rigid and plungerframed singles of the early '50s – like the B31 and M21 sidevalve. The principal difference being that a 20in diameter rim was fitted on the B40WD which was equipped with trials tyres – for military use it needed to be useable across country So the hubs at least should be reasonably easy to find, although it's worth checking that the B40 hub is the same width as that used on the earlier bikes – the original road-going C15 and B40 had narrower forks than the bigger bikes, and although a different design I think the WD was, too. The other point to watch is that the torque stay on the WD bike is a peg on the brakeplate that locates in a socket in the fork leg. I think the older brake was the same, but most other BSAs used a strap that attached to the mudguard stay bracket.
Condensed opinion
David Sandal asks if I can fill in a blank in his memory of the Triumph Thunderbird he bought new in 1960. He had so many problems with 'a little round electrical device' that he recalls was a capacitor, that he always carried a spare and asks if I can tell him what it was. That will have been the condenser inside the distributor, David. It's a sort of shock absorber that takes the punch out of the voltage to reduce damaging sparking when the points break, and failure generally results in a serious misfire or a complete stop. The condenser also features heavily in the collapse of the magnetic field inside the coil which amplifies the spark, so although the symptom of failure is wildly arcing and blackened points, the real problem is that the spark is greatly weakened when the condenser fails. They were generally quite reliable on magnetos and later, unitconstruction models had twinpoints sets with twin condensers. Since it was unlikely for both to fail, you'd always get home on one pot, but David's Thunderbird will have been fitted with a Lucas distributor, which has one condenser to cover both cylinders, making a complete breakdown more likely.
How To
Renew a fuel cap seal
Fuel cap seals that are riveted in place are difficult to replace, but not impossible. Here's how I did it...
drastic Plastic
Ken Kennedy emailed my website to ask a question about his 2011 Harley XR1000X that I suspect is pertinent to many classic owners. He says that the bike has a plastic tank and since this may make it susceptible to ethanol attack, he asks what approach he should take to a winter layup. "Should I leave it full of petrol, empty it or do nowt and pray to the gods of ethanol?" he wonders. Since the Americans have been dealing with ethanol for longer than we have, I suspect the Harley tank will be adequately resistant, but even so I would probably drain the tank and leave the cap off over winter, so any remaining fuel can evaporate. As well as the risk of chemical attack, ethanol draws water from the atmosphere, leaving a chance that water will collect causing carb problems in spring. It also degrades quickly, so you'd probably have to replace it when it goes back on the road anyway. With an empty tank, you can't run the bike overwinter, but that's no bad thing either – it's always worth turning an engine over on the starter from time to time to keep things free, but actually running it tends to create destructive condensation. Ken also wonders why engaging first gear from a standstill results in a loud clunk from the gearbox. This is not uncommon and is usually due to 'stiction' of the clutch plates. On kickstart bikes you would usually pull in the clutch lever and give a couple of kicks until the plates separate; assuming the Harley is electric start, I'd suggest pulling the clutch and giving the throttle a few blips before engaging gear; alternatively try rocking the bike in gear with the clutch withdrawn.
On the pull
Pete Jarman emailed to say he is stripping his Villiers 2F autocycle engine; having taken off the nut and lock washer, he is still unable to remove the crankshaft sprocket. "Is it on a taper?" he asks. From memory I didn't think so, and consulting the factory manual for these engines, it didn't say so either. But just to be certain, I dug out a box containing a dismantled spare engine for my own Excelsior to double check. The sprocket isn't a taper fit, but it is quite a tight fit on the shaft, located with a Woodruff key. Pete may need to make up a puller of some kind – a couple of ¼in diameter screws would make suitable legs to fit in the tooth wells of the sprocket.
No sale
I had a stall at an autojumble and a guy wanted to buy a carb, saying he had a problem with the float sticking. I asked if it was flooding. "No," he replied, "but when I really open it up, it splutters like not enough fuel is getting into the carb and I have to shut down to give the carb time to refill." This is a classic main jet problem. I explained that the main jet only really works on full throttle and if the wrong size, it will cause these symptoms. "Oh, so I just need a different jet. Thanks mate," he said, put the carb down and walked away. This is why I will never be a rich man.
Rick's Patch
where's the head gasket?
Rick hits the rewind button to last month and the question of what goes between a Bantam's head and barrel...
One thing I forgot to mention when covering Maria's Bantam engine rebuild last month was the head gasket. When the bike arrived it had a rather scorched piece of flimsy gasket paper which we replaced with a slightly modified aluminium gasket for a different bike while we waited for a gasket set. But there was no head gasket in the set – British bikes's head gaskets are often copper, so can be re-used after annealing and are often not included in a set. Maria ordered one separately from an internet supplier and it came through paper again – this time much thicker and more suitable material. The only trouble was, it didn't fit the stud holes! This was getting annoying, so when we put Maria's engine together we re-used my home-adapted aluminium one. I decided to ring Bantam John to see if I could find out why an early Bantam head gasket should be so elusive. The answer? "They don't have one. It's a lapped joint." My penalty was then to listen to the entire history of BSA Bantam head gaskets. There were a great many different types – but on the early engine, the joint is made by rotating the head against the barrel with a paste of oil and valve grinding compound between to even the surface. "By fitting any gasket," John summarised, "You reduce an already very modest compression ratio to almost nothing." Fair comment!