'rather than de-rusting his tank with nuts and volts, my friend went for electrolysis'
My friend Richard Underhill likes to find a scientific approach to working on his bikes. So, when he needed to remove the rust from the petrol tank of his newlyacquired Yamaha XS650, rather than using the conventional method of filling it with nuts and bolts and shaking it around, he went for electrolysis. He discovered the idea on the technical forum of the Yamaha XS650 website xs650.com but the information is given in much greater detail on a Canadian site antique-engine.ns.ca where electrolysis was used in the restoration of a rusty old South Bend lathe from the 1940s. For a tank, first you mix half a cup of domestic washing soda with enough water to fill the inside. Next, arrange a ferrous electrode (an iron or steel bar) to dangle in the tank – it must be partly submerged in the 'electrolyte' with enough exposed to attach a cable, and it mustn't touch the inside of the tank. The person on the forum used a rubber plumbing fitting that sat neatly in the filler orifice with a steel bar pushed through the middle, curved to miss the tank's tunnel. A positive battery lead is connected to the exposed electrode end and the negative cable is fastened to a paint-free part of the tank. The process encourages migration of the rust particles from the surface of the tank, while a charger hooked up to the battery prevents it draining. The same technique can be used to de-rust anything immersed in a bath of this electrolyte, simply adding a positive electrode and connecting a negative lead to the component. Richard was delighted with the result. Well, sort of; the tank came clean but he discovered a leak near the tank logo. Investigating further he found an area where the steel is paper thin. Pretty odd – and pretty unfortunate, too. After all that effort, he's going to need another tank!
The Big Fix
gumption traps
Nadgery little jobs like making a hole in rubber often require lateral thinking
Malcolm Ross says he enjoyed the feature on reviving Gavin and Alex's Triumph 5TA in last month's issue, but it made him think about his own Triumph – a 1953 5T that he's just got back on the road after a long layup. He says: "Simple things seem the hardest. The handlebars in the article sit neatly in the nacelle grommets with the throttle cable going through the keyhole underneath. My handlebars sit right at the bottom, making it impossible to get the cables through. The bars are clamped to the top yoke in their U-bolts and virtually touch the fork top nuts. Should there be anything under the bars to lift them? There's nothing listed in the parts book. Also, how on earth do you fit the tank knee grips? There's no way the screws will fit through the tiny holes in the rubber…" The book Zen and the Art of Motorcycle Maintenance refers to stuff like this as 'gumption traps', silly problems that completely drain your enthusiasm for a job. With the kneegrips, I suspect the holes have not been cut properly; I'd open them up with a sanding attachment in a Dremel. Sanding rubber is usually safer and more effective than trying to drill or cut. And I wonder if Malcolm's handlebars are original or repro; the great thing with the feature bike was that it was just as it left the factory. It wouldn't take much inaccuracy in a repro handlebar bend to cause this problem – and not all nacelle model Triumph bars are the same, year on year. I don't think Triumph did fit any packing under the U-bolted bars, but I'd just make something up to lift them slightly. These 'gumption traps' are often caused by trying to make things work in the way the book says; but if the book (or replacement part) is wrong, you're in trouble. Whenever I give up trying to make a difficult standard set-up work in favour of my own carefully thought-out modification, it's like a huge weight lifts and I find I can move on to the next problem in a lighter frame of mind.
Top Tips
A hole-transfer solution and some number crunching
Sharp points turned on grub
screws help with hole transfer
Thanks to John Comelly, who wrote in to say that when working in the tool room at measuring instrument manufacturer Moore and Wright, he got around the hole transfer problem (Fixes June) by turning sharp points onto grub screws of various likely threads that could then be screwed into blind holes. Then, with a light hammer tap, the points mark the workpiece, ready for punching and drilling.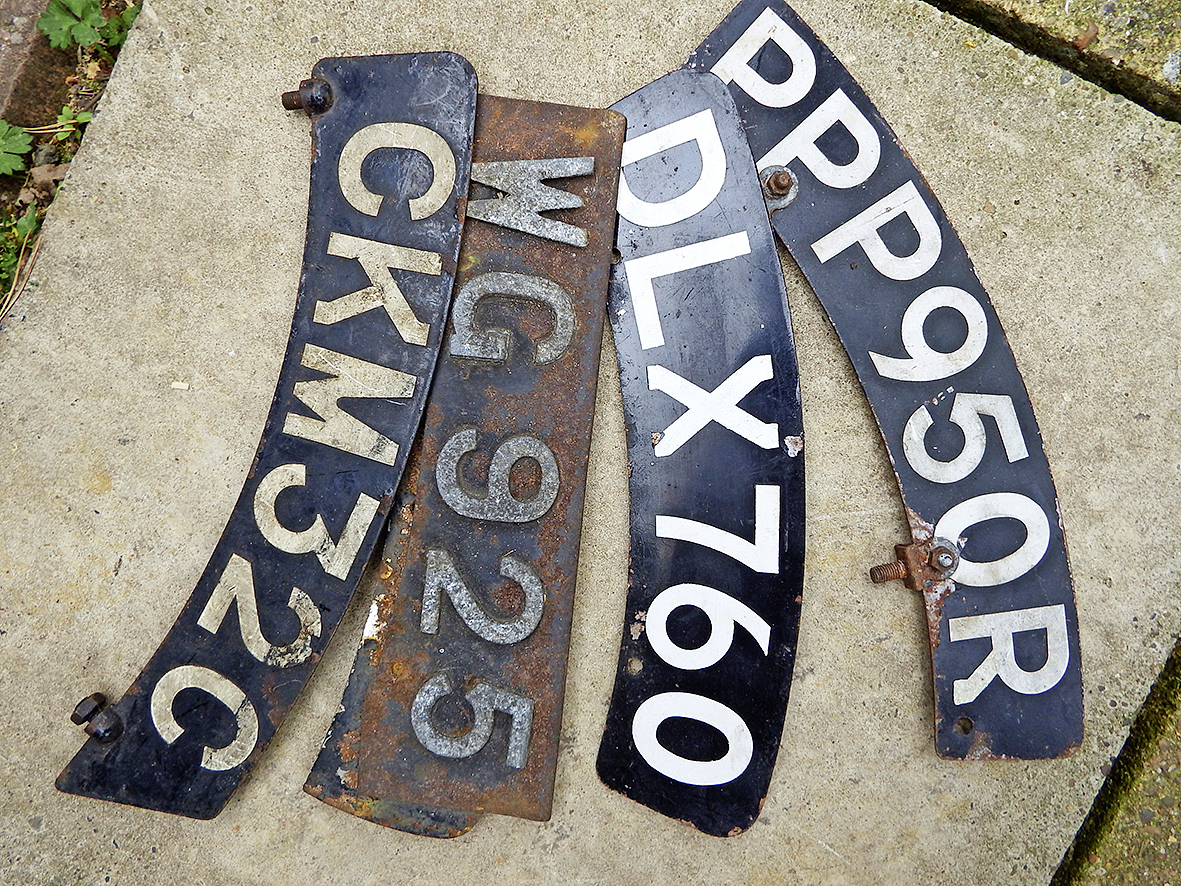 Now you can find where your
bike's old number ended up...
Have you ever looked for one of your old bikes on the DVLA Vehicle Enquiry site and found it doesn't come up? If the number has been sold, it could still exist, but you can't find out if the number is still in use on another vehicle without knowing the make. Julie Diplock (Elk Promotions) came up with a useful alternative site – cartell.ie – which doesn't require the vehicle make, just the number. Very handy, although I was a bit fed up to find the number that was on my Panther when I sold it is now on some crummy VW Polo…
Embarrassing leakage
Trevor Ewart says his 1964 Triumph Thunderbird is leaking enough oil to be embarrassing on club runs. The oil is coming from the engine breather and starts dripping after about five minutes' running. A friend recommended that he change the oil seals inside the timing cover, but it hasn't helped. This is most likely a scavenging problem – not enough oil is being returned to the tank, causing the level in the sump to build up until it's too close to the breather outlet. The usual cause is dirt preventing the oil pump's ball valves seating properly which reduces suction, allowing oil to build up in the sump to a degree where it starts to come out of the breather. The solution is to remove the pump and take off the two square-headed plugs on the base – be careful, they will be tight so you will need to hold the pump in the vice, but be very wary of crushing it. It's best to put nuts and bolts through the mounting holes and grip these in the vice so the pump body isn't touching the vice jaws at all. Beneath each cap you will find a spring and a ball; if the tiniest strand of fibre gets stuck under the ball, it will create the symptoms you're suffering. This problem often seems to occur after an oil change, when dirt may be dislodged from odd corners of the engine. Once cleaned out, if necessary you can reseat the ball by giving it a tap against the seating with a flat punch. Another possibility is wear in the pump itself. My own Triumph has always tended to spatter oil out of the breather if it is left ticking over for a long period of time and I have always thought about fitting a new pump, but it's not significant enough to cause any problem when riding, just ticking over. If there is any obvious scoring or corrosion pitting on the oil pump plungers (the large one is the scavenge side) then the pump should really be replaced.
Use your lugs
Ken Chandler wants to know what material the frame lugs are likely to be made of on his 1970 Triumph TR6, because some past owner has sawn off the lug that engages with the top yoke steering lock and Ken is hoping to weld on a new one. "Would the lug be cast iron or steel?" he asks. I wasn't too sure about this. I would think cast iron would be too brittle for frame lugs; the stress and flex that a motorcycle frame endures would make cast iron a very risky material to use. I wondered if the lugs might be malleable iron, a form of cast iron which has undergone a heat treatment to render it more flexible. But my mate Bruce said he would expect them to be cast steel. BSA were apparently casting steel lugs back into the 1930s. Bruce reckons that Ken will have no problem welding with MIG or TIG.
How To
Replace the glass on a magnetic speedometer
Last month Rick revealed how to remove the glass, this month he shows you how to re-glaze
Pete Whichello has just had the BTH magneto for his 1949 Triumph Speed Twin rebuilt; he asked for the cam-ring to be ground so that the sparks would occur exactly 180° apart, but the rebuilder told him that two degrees was as close as they could get. SRM have already suggested that he retard the timing by two degrees to accommodate modern fuel, but he says: "I thought higher octane fuel required a bit more advance? And since the two degrees discrepancy works out at four crank degrees, taking on SRM's advice I have set the timing from the standard 37° BTDC to 37° on one side and 33° on the other. How many degrees out do you consider significant and what timing would you recommend?" Well, first of all, I was once told that while BTH mags were rarely more than three degrees out, side to side, Lucas could be up to seven. Although I never thought to ask if that was crank or magneto degrees, it still indicates: a) that BTH were a better product than Lucas and b) that it's not as precise a science as it may seem. I'd say a two degree discrepancy is probably as close as is practically possible. Modern fuel burns faster, which is why the timing is supposed to be retarded, but to be honest I have never altered the timing on anything of mine and have suffered no ill effects. Most British bikes – especially something softly tuned like a Speed Twin – are pretty accommodating and provided that performance is good with no sign of overheating all should be well. Usually the answer to uneven timing is to split the difference between the two cylinders as Pete has done; if 37 is standard, retarding by two degrees as SRM recommend would move it back to an optimum 35° BTDC. At 37° and 33° Pete is splitting the difference down to a minimal two degrees out either side, which I'd say is the best compromise. Pete emailed back later with good news: the bike started easily and runs fine.
Rick's Patch
the round way wrong
Rick is reminded of a simple truth: when undoing a nut, it's important to know whether to turn it left or right...
I offered to have a look at my mate James' James. I'm familiar with Villiers engines but not these 150cc AMC motors and I didn't have a manual. Still, James thought it was just the points needing adjustment and besides, I can usually rely on my collection of 1960s Motorcycle Mechanics magazines for information like that. In the 1960s Motorcycle Mechanics covered stuff the other mags didn't – a huge amount of technical strips which can be a useful reference source today. Sure enough, May 1961 had a stripdown feature. Nothing to worry about there; it advised that I'd need a flywheel puller after undoing the flywheel nut, but I had already found a Lambretta one in my special tools box that fitted. But the nut was very tight. After rigging up a way to lock the flywheel using a giant C-spanner I found lying in the road a while back (I knew it would come in useful one day) it moved slightly but didn't come loose. Suspecting Loctite, I heated the nut – still no good. Before drilling and splitting the nut, I thought I'd better try it the other way. Sure enough, the article had omitted to mention that the nut was a left-hand thread! I should have relied on the simplywizard.co.uk website run by James' father. On that site, my late friend Alan Abrahams wrote in bold type: 'watch out for the left-hand thread'. Maybe I need to reassess my sources…