'Time may appear to be free, but it's harder to get than money when you need it...'
I'm having a mid-life crisis. No, I'm not growing a pony tail and buying a Harley; I mean that I have started to question my approach to classic motorcycling and, well, even life in general. Having always been into old bikes, the prices of showroom beauties never worried me. To afford my dream bikes, there was always the option of picking up a project or even a basket case. It's a system that worked for me and I'm used to it. It got me the bikes I wanted and they've generally cost me more in terms of time than money... but there's a problem. Time may appear to be free, but the reality is that it's much harder to get hold of than money when you need it. The experience I've gained has made the rebuilds easier than they were when I was young, but on the other hand I have less free time nowadays and I realise my addiction to bringing basket cases back from the dead means that I never have the time to enjoy the fruit of my labour – a sunny day becomes a great day to get on with building that wheel, when surely I should be just going for a ride.
The thing is, I can't bale out now; with so many projects to do, I tell myself I need to work harder to get finished sooner. But, inevitably, more projects appear and the list continues to grow. Maybe I should sell a couple of projects and, instead of buying even more projects with the money that generates, use it to fix what I've got. Sounds crazy, but it might just work... Collecting is a bad habit; and like other bad habits it pays to have a close look at cleaning up your act as you get older. Self discipline is the key, and don't assume that you will have more time to deal with it later; if you haven't got time to start on that project now, the odds are you never will – and buying another one makes the situation worse, not better. Right, must dash – I've got an urgent wheel build on the go out in the shed...
The Big Fix
I Need a Change
Is there a way to alter Triumph's gearshift pattern? Rick reckons the only way is up...
Jan from Tanzania says that while he can cope with his down-for-up right-side gearchange classics and up-for-up left-shift modern bikes, he's really struggling with the up-for-up rightside change on his 1969 Bonneville. "I'm sure they made reverse camplates available for the Triumph gearbox, but I'm unable to locate one," he says. "Any ideas?" I can't say I've ever heard of a reverse camplate for a Triumph, Jan – and neither has Cliff at Ace Classics, London. I wondered if one was included in the 'race kit' that was supplied for the early- '50s Tiger 100, but Cliff didn't think so, and reference to the parts diagram confirms it. The gearbox camplate directs the selector forks and a mirror-image version will preserve the gear pattern when the pedal is reversed for use with rearset footrests. Triumph were unusual in using an up-for-up pattern post-war; most other factories used the down-for-up pattern still popular for modern racing bikes, because the downward foot movement is faster, benefitting acceleration. Perhaps this is why even when the unit-construction Thruxton Bonneville racer came out, reversing the pedal (and thereby the gear pattern) to down-for-up wasn't seen as a problem that required a different camplate. And by then, linkage-type rearset pedals were available for anyone who couldn't adapt to the change. I wonder if Jan is thinking of BSA, who certainly offered a reverse camplate for the Gold Star, which in Clubman form came with the pedal reversed as standard. In this case, since the Gold Star was a standard production model, it would probably have been considered unacceptable to have a gear pattern that was different to other machines in the range; besides, since the Goldie was effectively a production racer, the racing up-for-down change may have been demanded by riders. I think Jan will have to try to get used to it; either that or fit rearsets and reverse the pedal…
Top Tips
A best bet for blacking-up and new Lucas parts
Granville still supply brush-on
heat-dispersant paint like this
Ken Bowler emailed to say, as regards cylinder painting, he's had a lot of success with Hammerite Bike Pot Black, which seems to stick well, claims to cope with 450°C and still works – even though his tin is dated 1998. Ah, there's the problem, Ken – Pot Black is unfortunately no more. The closest brushon product I know of is Granville Cylinder Black, which is hopefully as good and, like Pot Black, can be thinned with spirit for spray gun use, giving a more even coat and better penetration between deep fins.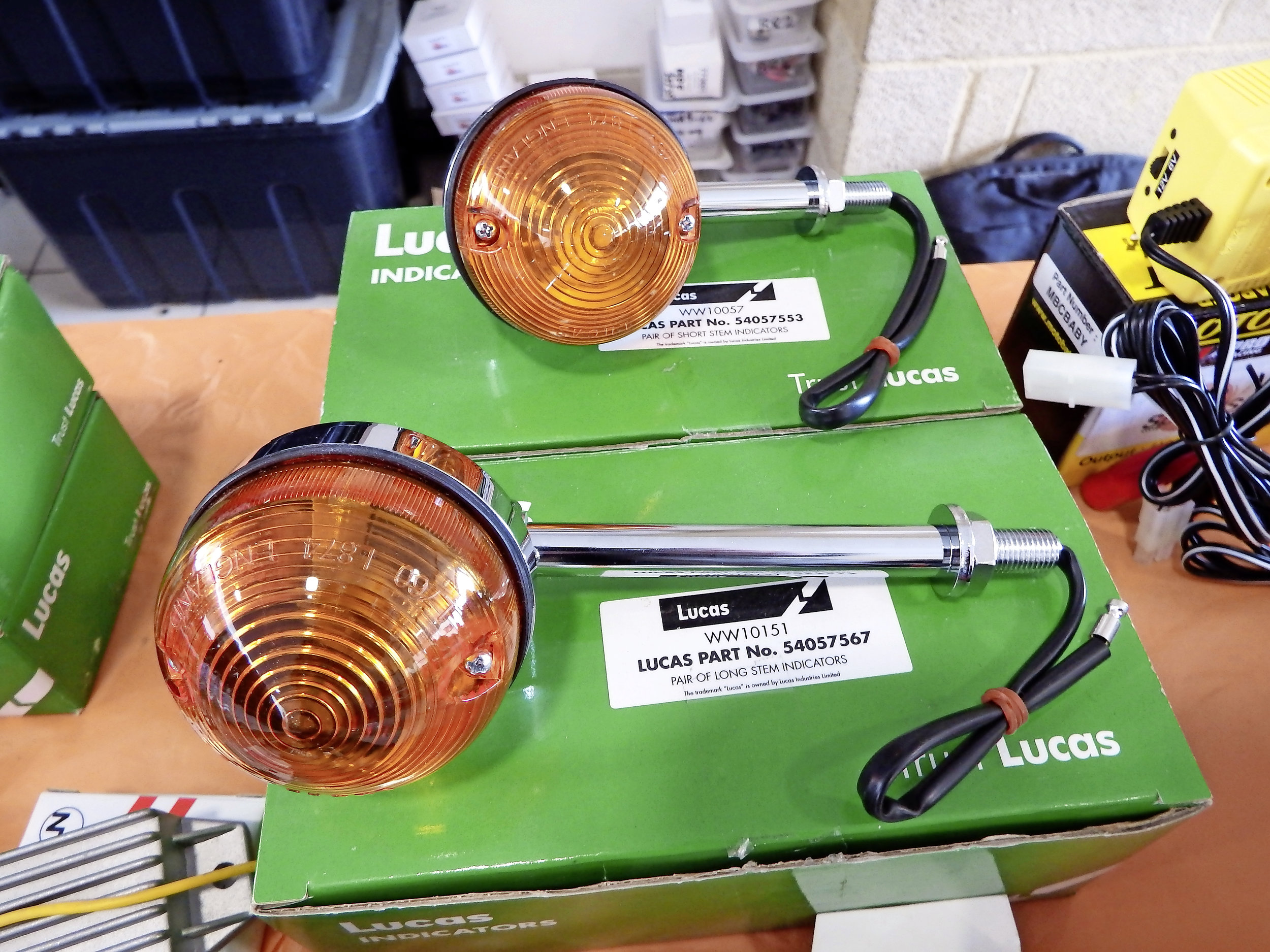 Reproduction Lucas parts get
the thumbs-up from experts
You've probably seen the range of Lucas branded parts that are available now. Rex's Speedshop are stockists and I was discussing them with Marcus Rex the other day. He tells me that, far from being just an old trademark on inferior products, Lucas themselves have carefully monitored the reproduction range, which is mostly Taiwanese-made (like OE Japanese bike electrics) and high quality. Ferret backed this up, so that's good news.
Colin Gyue has a 1971Triumph T25T Trailblazer which has been re-imported from the States, and is having trouble locating a 20in tyre for it. The only ones he can find are Ensigns with a block tread rather than the standard knobbly Dunlop Trials Universal. He asks whether it would be safe (or legal) to mix a road and trail tread, or if there is an alternative. The 20in Trials Universals were discontinued a long time ago and, although the Ensign range is styled after the tyres of the older bikes that fitted this unusual diameter, I can't see a problem. I've used a mix of trials and road patterns and although I can't see anybody recommending it, it worked OK and went through an MoT without comment. Because trials often involves road riding between sections, trials tyres have to be road legal – unlike motocross tyres, for example, which are purely off-road. Another alternative would be to have the wheel rebuilt with a different-sized rim for which tyres are more readily available. 21in would be more appropriate for off-road style, but the UK TR25W (Woodsman) model, which was a road bike but with some off-road styling (high-level exhaust, etc) had 18in front and rear. Me? I'd go for a 21in.
Sprocket swap
Mark Stevens is building a classic-inspired special based around a Suzuki SV650. To achieve the spoked-wheel look, he is using a rear hub from a DR650 laced to a 17in rim, but has run into problems with gearing as a result of the related change to tyre size. The standard sprocket set-up is 45 on the rear and 15 front and Mark asks if we can advise on the sizes he is likely to need. As he says, if he needs to get the sprockets made, he'd rather get it right first time. You can use trigonometry to calculate the circumference of a tyre from its diameter, but it is probably easier to make a mark on the tyre, roll it on the ground for one full revolution and measure the distance for both wheels. Then you have to figure out the percentage difference between the two and alter the gearing by a similar amount. If the diameter of your new wheel/tyre combination is smaller than before, it will raise the gearing, meaning you will need a larger rear sprocket or smaller gearbox sprocket. Again, the relationship is worked out on percentages, so if you have a 15 on the front and 45 on the rear, the front is 33% of the size of the rear, so one tooth less on the front equals three extra on the back. Having worked out the size you need, I would then look into what alternative sizes may be available from other Suzuki models. Sprocket blanks can be obtained from sources such as Sprockets Unlimited (01386 831341, sprocketsunlimited. com) I gave them a call and spoke to Jane, who told me that they can supply 16 or 17-tooth sprockets to fit the SV650 engine. If a sprocket needs to be specially made, a rear is the one to do, as it only requires holes, rather than complicated splines, machined. As their name suggests, Sprockets Unlimited can supply blanks and can also organise any necessary machining; expect to pay around £25 for a blank or £45 to £50 machined, although Jane pointed out that the SV650's 525 chain size means that the blanks are probably only available in Duralumin, which works but doesn't wear quite as well as steel –it can be hard anodised to increase durability, however.
How To
Locate, mark and drill blind holes
It's not easy to match-drill when the existing hole layout is obscured. Here's a way around it that worked for me recently
Rod fishing
After 25 years in a damp shed, Eddy Hamley thought he'd better refresh the fork oil as part of recommissioning his 1957 Triumph. But having flushed the fork legs with diesel and refilled them with oil, he was dismayed to find they seemed to have extended like a chopper. Assuming he'd put in too much oil, Eddy drained some out, but the problem remained. Loosening the pinch bolts and pumping the forks up and down didn't help, either. "The forks seem about 2in too long," he says. "What am I doing wrong?" My guess is that the damper rods have come unscrewed from the top nuts. The fork innards are similar to rear shocks. There's a damper unit with a rod emerging from the top. On the Triumph this rod screws into the fork top nut, secured with a lock nut. If the lock nut isn't tight enough, when you unscrew the top nut from the fork tube there's a good chance you are also unscrewing the damper rod which will then sink down into the stanchion out of sight. Eddy will need to fish about for it with a piece of wire and draw it up again until he can screw it back into the top nut; the locknut will hopefully still be on the rod and a wire hook will grab it – but remember, this is a damper so the harder you pull, the more the rod will resist. Take your time and it will be much easier.
Rick's Patch
Star-ting over again
Rick hopes he's finally solved his Goldie problem. Now he has to put back all the changes he made along the way...
Well, the Gold Star is finally back together and with the cylinder shim removed it does seem more perky... but of course I'm now going to have to sort the carburation out all over again. I've heard some interesting opinions from other Goldie love/ haters. At the Stafford Show Job Hutchings was telling me I'd find life much easier if I fitted a Mikuni carb – that's a step too far for me, Job, but I may try the Concentric again before struggling with the GP. Job also recommended a look on the Gold Star page of the US Britbike web forums, there's a different take on Gold Star lore across the pond. Rob, who I met on the Island many years back, contacted my blog site (rickparkington.co.uk), where I had poured out the whole sorry story, to sympathise. He said he'd had loads of bother wading through dodgy pattern parts to get the bike right, but as he said: "When it runs well... fantastic!" Finally, Michael Wightman emailed to say that the DB32 he ran in the late '60s always seemed gutless. "Back then, BSA still had a Customer Technical Department, so I exchanged letters with the specialist there – but although I changed carbs, jets and checked the timing marks, I could never get it right. It never occurred to me the cam profile might be wrong." I'm sure Michael knows to check whether he has the DB32 engine pinion that advances timing by 10° for certain cam combinations, but I have to wonder – if even BSA couldn't solve a Goldie's problems, who can?