'the adjuster threads were all crumbing into hard, highly abrasive grit'
I decided to make my life easy at the Isle of Man and took my ultra-reliable 1968 Triumph as well as the 1928 BSA. During the course of the week it occurred to me that, having just recently replaced the Trophy's head gasket, I should tighten the head down and reset the tappets. One adjuster seemed a bit stiff, so I decided to unscrew it from the rocker for closer attention... but I was pretty horrified to discover the cause: the threads on the adjuster were all crumbing into hard, highly abrasive grit which I had to carefully poke out of the rocker arm with spirals of tissue paper. I was lucky it hadn't let go while riding – at least I got the chance to clear the debris before it got pumped through the engine bearings. I rode the old BSA for the rest of the week and the reliable Trophy remained under its cover. So what's it all about? The clue was there to be seen in a chip off this adjuster's square head; the other three in the engine are slightly burred here and there, but not chipped – and although their threads might wear or even strip, I know they won't crumble. You see they are genuine Triumph adjusters; the errant one's a nasty 1980s pattern part. Proper tappet adjusters are made from a quality steel and hardened on the tip only, the head and threads remaining tough but not hard. Such 'selective' case-hardening can be done by copperplating the adjuster – creating a skin that resists the hardening compound – and then polishing off the plating on the areas to be hardened. Of course it's cheaper and easier to case-harden it all over – but this leaves everything brittle, hence my problem. I wouldn't mind, but I seem to remember this adjuster coming out of a genuine Triumph bag; there were dozens in there and, with hindsight, I suspect the original content had been topped up with cheap pattern stock. Looking back, the 1970s and '80s were when the reputation of British bikes was at its lowest. Looking back at the standard of parts then available, can you wonder?
The Big Fix
Testing it to
Destruction Sometimes the only way to find out if a technique works is by breaking stuff...
Tony Lai emailed to ask how to remove the brass fuel inlet from the float chamber of a separatefloat Amal carburetter for cleaning. He's removed the slim lock nut and fibre washer, but the brass inlet doesn't seem willing either to press out or to unscrew. There happens to be a good reason for that, Tony – it isn't removable. The bike in question is a 1930s 250cc Red Panther that Tony has just acquired. It was in pretty derelict condition and, as is typically the case, the bottom of the float chamber is filled with a whole load of chalky deposit, principally comprised of oxidised aluminium from the high-zinc casting. The brass part Tony is asking about is actually the float needle jet, the supply entering the bowl at the bottom. Fortunately, all the holes are large and easy to poke clear – although it's important to bear in mind that the bore of the jet, seen from below, is also the seating for the needle, so don't use anything that might score the brass or you will have flooding problems. Although the nut and fibre washer make it seem like the seating is removable, I think they are only there to seal the join between the brass and aluminium. I had a scrap float bowl of this type a while back, cracked from top to bottom, and rather than simply binning it I decided to try pressing the jet out in the interests of research. As you can see from the pic above, it is knurled and cast in; the only way it will come out is by completely shattering the float bowl.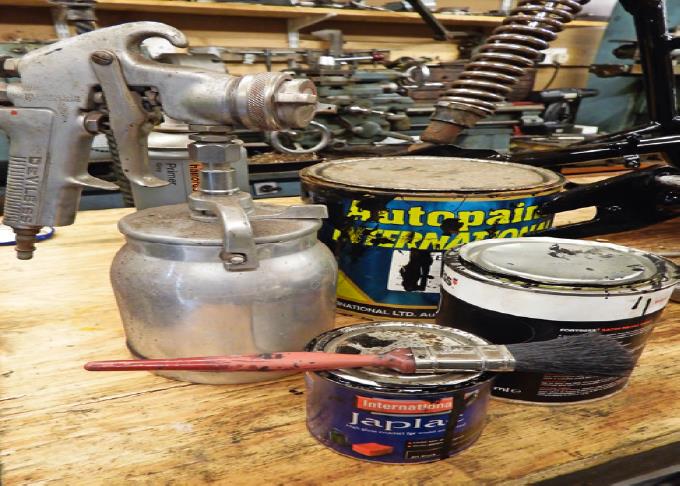 What's the best
bet for brushpainting
frames?
Ian Copcutt emailed in to say he has had a lot of success brush-painting frames with a jet black synthetic enamel from Auto Paint Supplies in Telford (01952 614103). I gave them a call to find out more, and it sounds like their 'HMG 14 Line Polyurethane' is a good bet – it's solventbased and intended for spraying, but a relatively slow drying time makes it suitable for brushing, too. While on the phone, I took the opportunity to ask about the availability of cellulose paint. Safer to use than the toxic 2 Pack, I find it ideal for gun-spraying mudguards and odd bits. It was outlawed on environmental grounds about ten years ago, but the story was that there was so much of it that it would be better for the planet to paint things than pour it down the drain... It turns out that it is still available, but can only legally be sold for industrial applications and painting classic vehicles. You may be asked to confirm this is your intention, maybe even give a registration number, but apparently the relevant legislation doesn't specify exactly what age constitutes a 'classic vehicle'… Rick's found an ally in the brush vs spraygun for frames debate
Ken Chandler in Australia's mighty Queensland has a 932 Amal Concentric carburetter fitted to his 1971 Triumph TR6R. The carb should be a '930', and on these Amals, 9 refers to the basic body casting size and the following digits – typically 28, 30 or 32 – are the choke diameter (bore size). Ken asks: "Will the fact that the carb fitted is 2mm too big cause a problem?" I don't think so, at least I doubt it will create a noticeable difference for road use. Fitting a larger carb will reduce air speed, which may call for a reduction in jet size to accommodate. Fitting a bigger carb was always a Step 1 tuning mod for learners, but often made the bike run worse rather than better because it generally went hand-in-hand with a larger main jet, when a smaller one was more likely to be what was needed. The Triumph is probably forgiving enough not to notice – and less likely to be run permanently flat-out than a 50 or 125 – so since it seems to be running OK at the moment I'd leave it alone. Ken also asks about a Triumph frame he has with a 'C' suffix after the number. This ties in with the query from fellow Aussie Lawrence Watts last month about a mystery 'C' in his engine number. However, I have a '55 Thunderbird engine sitting on a stand and that also has a 'C' (and a 'P', come to that) as part of the engine number and I know from checking factory records that the bike it came from was a bog-standard sprung hub Thunderbird with sidecar gearing; nothing special, so I now begin to wonder whether these random letters might even be some sort of factory inspector's marks. The mystery (such as it is) continues…
Negative? not positive...
Nick Broomhall asks: "This may seem like a silly question, but since my '58 Gilera 'Rossa Extra' 150 came without a battery, I need to know if it is a negative or positive earth system before fitting one – the manual doesn't tell me." Not really a silly question at all, Nick; after all, if you fit the battery the wrong way round you are likely to destroy the rectifier. Nick suspects that the bike is negative earth and I'm inclined to agree, but it may be possible to work out from other earthed connections on the bike. If the bike has an alternator, there will be a rectifier which will have AC inputs from the alternator, a DC output to the battery (usually via a switch or ammeter) and an earth connection. If there is an ignition coil, the low-tension wire to the points is an earth, sending ignition current to ground when the points close. Usually the coil will be marked + and – so you can work out the bike's polarity by which goes to the points. Just to confirm, I spoke to Ferret (07765 832420). "Yes," he said. "It'll be negative earth, but on many of these Italian lightweights – and some early Japanese bikes – the switch controls the ignition circuit earth, not the live. Seeing a negative wire apparently feeding the switch misleads the unwary to assume that it's a live and the bike must therefore be positive earth." You have been warned!
How To
Radiator bleed keys don't fit Triumph tappet adjusters…
...so here's how to make your own square-headed key that will fit whatever you need
Still with carbs, Richard Zeldenrust from Washington, USA has an issue with the 1969 Laverda 750SF he bought as a project. It came with only one Dell'Orto VHB30 carb. He bought another on the internet, but having got the bike on the road he finds it's a bit hesitant low down and wonders whether it could be due to a slight difference between the two carbs. Although he cleaned and checked them thoroughly, matching all jets and parts, there are two air holes just inside the venturi of both carbs but the new carb has a brass tube emerging from one of them. I couldn't help with this one, so I rang Keith Nairn at Laverda Scozia (07766 694567). Without seeing the carb, he was at a loss, too, but said that in his experience the two carbs need to be a match to run perfectly. He also wondered whether Richard's carb might be from a Guzzi, pointing out that some Guzzi carbs featured a neat fuel injector, not found on the Laverda carb, which would upset the apple cart. These carbs will work on a Laverda, but you need a pair. My next port of call was Robert at Dell'Orto specialist Eurocarbs dellorto.co.uk) who was kind enough to take the time to rummage through piles of carbs for me. He said although he has a carb there fitted with the tube, he has others without – and even without the drilling. He says that referring to Dell'Orto paperwork, this airway is part of the pre-emulsioning system (ie fizzing up the petrol with a bit of air before it's drawn into the main venturi airstream) but not all of the carbs have this feature. Robert says that it was typical of Dell'Orto to incorporate odd modifications requested by their bigger customers and thinks the tube might be one of these. He wasn't sure whether the brass tube was removable, but agreed with Keith Nairn that the two carbs not being the same could be the problem.
Rick's Patch
project picking
In the first of a regular series of Parkington observations based on his own shed-based experiences, he advises on winter projects
It's that time of year again – time to consider a project for winter. Although I have plenty of my own to do, when I spotted these two bikes pictured on the right at a recent autojumble it got me thinking. They are a 1956 500cc Velocette Venom in, er, weathered condition and a complete but rather faded 650cc BSA A10 from 1957. Similarly priced, surely the BSA is the better buy... but is it that simple? On the face of it, yes it is. There's certainly way less work to do on the BSA. The Velocette is a long way past the 'oily rag' approach to refurbishment. The exhaust, front mudguard and dynamo are all conspicuous by their absence and the rear guard has rusted through in places. The BSA, in comparison, looks like you could almost ride it away. It was claimed to be a one-owner bike, and although the chrome may be dulled and the paint faded, it's complete and there's a 1984 tax disc in the holder, suggesting it's been on the road within living memory. But then that's over 30 years ago now. If the bike has stood for that long, it's more than likely that it will need more attention than new plugs and an oil change. Also, it only works if you're happy with an oily-rag bike – if you want to restore it, you'll still need a new exhaust and rims, chrome plating and a paintjob, the same as the Velocette. The difference is that the Velo is ultimately a much more valuable bike. Consider the Venom as a possible café racer project and it looks better still. Starting with a rough but complete bike, rather than the traditional bare engine and a frame, gives you all the fiddly bits; you know they all fit together, it comes with a log book and you have the choice as to which bits to replace with custom accessories. The most important thing when project hunting is to work out what you actually want before you start looking. One man's bargain is another's money pit and it's rarely a good move to buy the first thing you see, just because it's in your price range.